We hope everyone is enjoying the summer season and enjoying the sunny weather! Now that schools are out, this is the perfect chance to get your kids involved for some fun, family bonding time. There are so many fun and exciting activities to do and attractions to visit throughout Scotland. Some of our top picks that will be discussed in this blog includes the BLiSS Trail that takes you through various villages, the Macroberts Art Centre in Stirling, The Trossachs Trail which contains various Scottish locations, the Crieff Hydro Hotel & Action Glen and the National Cycle Network which offers routes throughout Scotland. We have a range of properties located within these lovely locations – click to our Cooper Cottages' website to find out more!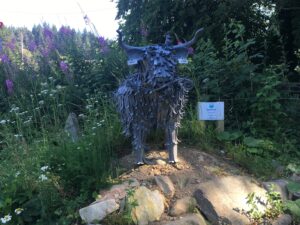 BLiSS Trail
If looking for fantastic art instillations and architecture, you and your family will absolutely love wondering through the BLiSS Trail. The BLiSS trail was established in 2016 and was launched to celebrate Innovation, Architecture and Design. Follow the trail starting from Strathyre and make your way through the villages of Balquhidder, Lochearnhead and St Fillans. The trail is comprised of fantastic art instillations, thought-provoking ornamental features, food and drink stops and Loch Earn Tourism information. To access the BLiSS Trail, drive along the trail around the A84 and A85 Balquhidder, Lochearnhead, Strathyre and St Fillans starting from any of the villages. There are also sections of the trail one village at a time by bicycle or by walking. If wanting to hire bikes, these can be hired in Strathyre, Sustrans Cycle Route 7. Westies of Craggen, The Three Sisters and Stan The Stag are names of some of the sculptures that are situated in Lochearnhead.
Macroberts Art Centre
If looking to enjoy various films and theatre events, you may enjoy the Macroberts Arts Centre. Located in the heart of the University of Stirling, the Macroberts Art Centre is Stirling's central hub for making meaningful connections with communities, entertainment, wellbeing and understanding. The Macroberts Centre offers a diverse range of activities with over 400 live performances. These span from various genres such as comedy, family friendly, opera and art exhibitions. Visiting the Arts Centre is a great opportunity to get involved and for a year-round cinema programme.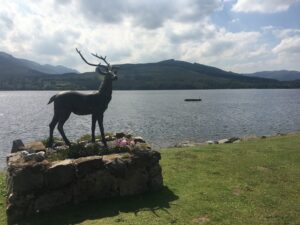 The Trossachs Trail
For a nature adventure in various Scottish locations, why not consider The Trossachs Trail. The Trossachs Trail is a 40-mile route that draws inspiration from the original Trossachs Tour in the 1800s. Originally, the trail was comprised of a series of brown road signs that lead the way. The trail has since been upgraded, with the main initiative being led by Loch Lomond and Trossachs. The Trossachs can be described as a large area comprised of woodland, lochs and mountains between Callander and Aberfoyle. The name 'Trossachs' originates from a small wooden glen that leads from Loch Achray to Loch Katrine. The route enables you to explore various places such as Doune, Callander, Aberfoyle, Blair Drummond, Deanston, Brig o' Turk and Kilmahog. The highlights that you can discover along the Trossachs can be explored through foot, boat or bike. These include Doune Castle, mountains such as Ben Ledi and Ben Vorlich, Blair Drummond Safari Park, Deanston Distillery, three lochs forest drive and beautiful waterfalls such as the Falls of Leny near Callander.
Crieff Hydro Hotel & Action Glen
If looking for fun activities to embark on with family, why not check out the exciting activities offered by the Crieff Hydro Hotel. Action Glen offers an Adventure Park that provides outdoor experiences with a plethora of attractions of attractions, activities and obstacles to keep everyone of all ages entertained. Just located behind the Action Glen hub, Glen's Adventure Park is a fantastic place to explore and make memories to last a lifetime. There are many challenges such as Glen's Fort, Ziplines, Berg Karts, Climbing Walls, Jumping Pillows and Glen's Mini Off-Roaders. There's also the Action Glen Outdoor activities that offers exhilarating activities such as Segways, Archery, Mountain Bikes, Treetop adventures and Watersports on Loch Earn. If looking to try even more fun activities, there's also horse-back riding activities within the Horse Riding Centre, an open field to play Golf and Tennis or why not relax by the Spa and Hair facilities that offer Spa Treatments and Hair Appointments.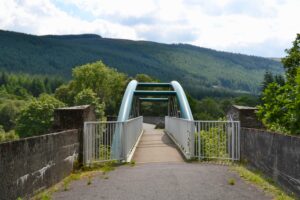 National Cycle Network
There are also fantastic cycling and walking routes if seeking to explore Balquhidder and the surrounding villages, such as Sustrans National Cycle Network. Sustrans is a charity that aims to make it easier for people to walk and cycle. The organisation's vision is to cultivate more clean air and green places, and promote a healthier lifestyle. The Sustrans National Cycle Network offers great cycling routes between various various towns within the National Park. Some examples include the Aber Valley Cycle Route (14 minutes), Alnmouth to Druridge Bay (45 minutes) and Barrow in Furness to Windermere via Kendal (3 hours, 45 minutes). There are also some amazing walking routes that run through stunning rural countryside and passes through many hidden urban gems! Examples include The Caledonia Canal (8 miles), Maerdy Mountain to Rhigos (9.3 miles) and Penistone to Dunford Bridge (13 miles, return journey). Experience the landscape and sights of rural Scotland by exploring the lochs, rivers, forests and valleys.