1. Hallowild at Blair Drummond Safari Park (12th to 27th October)
This year, the Safari Park is unveiling The Tomb!  A brand new indoor Halloween attraction with special 3D effects and live actors, that's guaranteed to set hearts racing. There will also be magic shows, slime making, a pumpkin patch, giant haybale spiders and all the usual attractions! All included in the admission price of a full day at the Safari Park.  Tickets from £13.50 at www.blairdrummond.com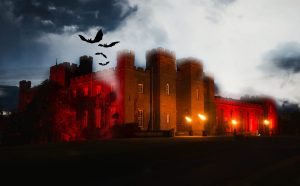 2. Spirits of Scone at Scone Palace (25th to 31st October)
Experience a spine-tingling tour. The grounds of Scone Palace come alive this Halloween with ghouls and monsters ready to scare unsuspecting wanderers. There are make-up stands and fancy dress is encouraged (with prizes for best dressed). Hear ghost stories in the Tipi of Terror, grab a bite at the Fright Night Café, or if you're brave enough you can attempt the palace maze! This event is suitable for over 16s. Tickets are available from the Scone Palace website.
3. Haunted POW Camp Tour, Comrie (Wednesdays)
Join Lynne and Gary Knight of History and Horror Tours for this eerie and informative tour around the abandoned Cultybraggan POW Camp just outside Comrie. Commune with ghostly officers and hear tales of spooking happenings from the camp. Find out more about the tours and book tickets on the History and Horror Tours Facebook page. You can also read a full description of our experiences at the camp on our blog.
4.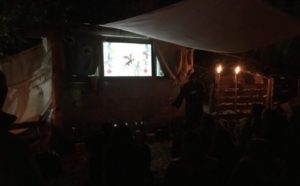 Celtic Samhain at the Crannog Centre (31st October)
The Crannog Centre at Loch Tay offers the unique chance to step back in time to an Iron Age dwelling and experience the lives of our ancestors. Samhain is the ancient Celtic festival celebrating the end of the light half of the year and the beginning of the darker months. Enjoy traditional storytelling, shadow puppets, games and the "ram burning" ritual. Book your tickets for the event at the Scottish Crannog Centre website. Read more about our visit last year on our blog.
5.  Stirling Ghostwalk
Join the Happy Hangman on a tour around Stirling's haunted places. A fantastic tour with an entertaining and knowledgeable guide who is sure to provide thrills and chills as he takes you on a journey into the dark heart of this historic city. You can find out more from the Stirling Ghostwalks website. Tickets are available on the day for ghostwalks, and run weekly.
6. Stirling Lantern Parade (2nd November)
A free family friendly event, the parade will set off from Port Street at 5pm and finish in Broad Street. There will be fun, music and lightshows to enjoy at the end of the parade. Find out more about the parade here.