Last night we enjoyed a tour around the Cultybraggan Camp just outside the village of Comrie, formerly used as a World War Two Prisoner of War camp. The Nissan huts used as lodgings and officers quarters were later re-purposed for British Army cadets so many of the buildings dating back 70 years remain remarkably intact. The tour was run by Lynne and Gary of History and Horror Tours with a focus on some of the paranormal activity that has been reported around the camp. Both have many years of experience doing these tours and investigating haunted sites so they were excellent guides. Gary began the tour with a few stories of old Strathearn, including some grisly tales of clan strife, and then a couple of chilling ghost stories. We then trooped down to the prison block of the camp and were given the chance to do some ghost hunting ourselves, with EMF sensors and a state-of-the-art device known as an ECHOVOX that allows you to communicate with any spirits present.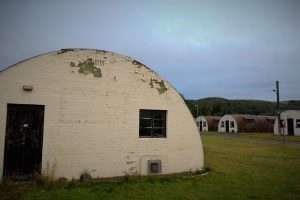 Cultybraggan Camp is a one of a kind location and well worth a visit for those interested in military history. The Haunted Camp tour provides that little bit extra to the experience of visiting the camp and the guides do a great job of explaining the various phenomena that have been recorded there as well as telling some interesting stories.
This tour runs Wednesdays from 8pm and lasts around 90 minutes. Families and groups are welcome. I highly recommend the tour as an interesting way to see this unique place.
Haunted POW Camp Tour Page
History and Horror Tours on Facebook
History and Horror Tours on Twitter