The festive season is upon us, and it is the best time to enjoy some quality time with your family. Forget about the stress of Christmas shopping and planning New Year's parties, and take some time to simply go out and have fun with your little ones. Here is our selection of family-friendly events in the area.
1. Winter Wonderland with Highland Safaris
Feeling up for something wild? Visit the Highland Safaris Facebook Page for more information about their winter events. Would you rather head to hills and go wildlife spotting on a unique Land Rover Safari? Or cruise on stunning Loch Tay and learn more about local history, myths and folklore? Either way, Highland Safaris can guarantee an unforgettable experience!
Check out availability for our properties around Killin and Loch Tay, and make a holiday out of it.
2. Woodland Experience at Balfron
Scotland's number 1 outdoor woodland venue is back for another year of magical events that your children will never forget. Hop on the tractor trailer towards Santa's cabin, and get ready for a meeting with Father Christmas himself. Award winning hot food will be served, and you will get a chance to shop a wide range of Christmas decorations at the shed. More info on their website.
Balfron is just a half hour drive from our properties in Callander and Stirling.
3. Santa at Loch Katrine

A unique event that will be enjoyed by children and parents alike. Take the classic meeting with Santa, add a scenic boat ride and you will get the perfect family day.
Enjoy a delicious feast in the café and get ready for an hour long cruise on board the 118 year old Steamship Sir Walter Scott. Do not forget your cameras, because this is going to be a picture-perfect day!
Find more information here.
4. Stirling Castle events
Step back in time and celebrate the festive season like a true king. Every year Stirling Castle hosts a range of Christmas events for the whole family. From Shopping Fairs to live adaptations of Dickens classic "A Christmas Carol", all throughout December you will get a chance to experience the magic of the holidays in one of the most stunning venues.
More information about the events can be found on the Stirling Castle website.
5. Christmas Markets and Fairs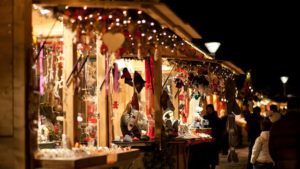 Spectacles of lights and big crowds in the country's biggest Christmas Markets can sometimes be overwhelming. That's why this year we are suggesting sticking to the smaller, local fairs. Callander Winterfest is back with numerous events and activities, which include live music, a parade, film screenings and much more. Just a short walk from one of our cottages, Strathyre Christmas Markets are back for another day of fun activities. Check out St. Ola's availability here.
Photo credits
Photo by Sid Balachandran on Unsplash
Photo by Diana Parkhouse on Unsplash