We hope everyone has been enjoying the Autumn season! It's the time of the year where the leaves are changing colour and the days are getting a bit chillier. Now that the October break has now began, why not take advantage of this great opportunity to book a holiday to Lochearnhead. There are so many fun adventures to embark on with friends and families. Examples include exciting water based activities at Loch Earn Wakeschool, spotting various art instillations from the Bliss Trail, golfing at St Fillans or going on hiking expeditions within breath-taking locations such as Ben Vorlich, Rob Roy Way, Glen Ogle Trail and the local Munro's. If looking to book your holiday at Lochearnhead, check out some of our lovely cottages such as Allt Beag, View Cottage and The Old Schoolhouse.
Loch Earn Wakeschool
If looking to try out fun, water-based activities, check out the Loch Earn Wakeschool – a fantastic centre with a diverse range of fun, water based activities to try! An activity that you can try out involves kayaking on the stunning Loch Earn. Kayaking is defined as a water sport that involves paddling using a double-bladed oar within a light, narrow boat that has both ends tapered to a point – known as a kayak. The great thing about the kayak boats is that there were various sizes, suitable for either a single person to use or to have two people on a single boat for double the fun! Another fun activity for those adrenaline thrills is Wakeboarding. Wakeboarding is a water sport that involves the rider standing on a wakeboard (kind of like a surfboard) that is being towed behind a motorboat across the waters. It almost looks like your skating on water! You will be given the appropriate equipment such as a wetsuit, a life jacket and an introductory dry land lesson before heading out. Other fun activities that you can participate in involve Waterskiing, Inflatable Ringo Rides, Stand Up Paddle Board and Speed Boat trips.
BLiSS Trail
If looking for fantastic art instillations and architecture, you'll absolutely love the BLiSS Trail. The BLiSS Trail was established in 2016 and was launched to celebrate Innovation, Architecture and Design. Follow the trail starting from Strathyre and make your way through the villages of Balquhidder, Lochearnhead and St Fillans. The trail is comprised of fantastic art installations, thought-provoking ornamental features, food and drink stops and Loch Earn Tourism information. To access the BLiSS Trail, drive along the trail around the A84 and A85 Balquhidder, Lochearnhead, Strathyre and St Fillans starting from any of the villages. You can also appreciate the installations in individual villages by cycling or walking. Bikes can be hired in Strathyre and Balqhuhidder to enjoy the Sustrans Cycle Route 7. Westies of Craggen, The Three Sisters and Stan The Stag are names of some of the sculptures that are situated in Lochearnhead.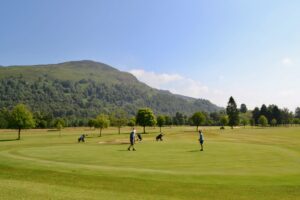 St. Fillans
Are you a golf enthusiast? If so, there is a 9-hole golf course nearby St. Fillans. The St. Fillans Golf Club is located within the heart of Highland Perthshire, known as one of the most beautiful parts of Scotland with majestic mountains and stunning lochs. St. Fillans is a lovely village at the eastern side of Loch Earn with rows of houses, hotels and guesthouses enjoying the lovely views of the loch. Tucked across the River Earn is the 9-hole St. Fillans golf course. The St. Fillans 9-hole golf course was designed by St. Andrews professional and Open Champion: Willie Auchterlonie. The current course record is at 66 and was set by a famous local: Sandy Lyle. If wanting to find out more information about the 9-hole golf course, there are also hole-by-hole guides. The 9 holes involve Hole 1 (The Girran), Hole 2 (Earnside), Hole 3 (An Cnon), Hole 4 (St Fillans Chair), Hole 5 (The Bothy), Hole 6 (Birran View), Hole 7 (Dykeside), Hole 8 (Dundurn), Hole 9 (Baillie's Bunkers).
Walking Expeditions
There are also various walking and hiking expeditions that you can embark on. A trail that you can try out is The Rob Roy Way. The Rob Roy Way is one of Scotland's greatest trails, which stretches up to 127km (79 miles) between Drymen and Pitlochry through the Lowlands and Highlands of Scotland. The trail is named after Rob Roy MacGregor, a famous Scottish folk hero and outlaw of the late 17th and early 18th century. The Rob Roy Way was first established in 2002 and crosses the Highland Boundary Fault, a geological divide where the Highlands meet the Lowlands. There's a diverse range of hikes that you can embark on such as Gentle Hikes, Moderate Hikes, or Challenging Hikes. There are also other locations for hiking expeditions such as Ben Vorlich at Loch Earn, one of the best known Scottish mountains, or the Glen Ogle Trail.