We hope you enjoyed the previous property blog post which answered various questions regarding the View Cottage. This weeks' blog post will be exploring the High View Cottage as the owner of this amazing accommodation has described the many benefits that guests can enjoy when staying at the High View Cottage!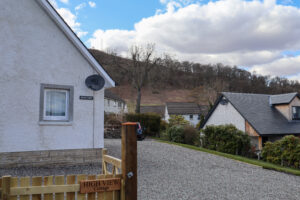 High View can be described as a modern built cottage ideally located in Killin. The cottage sits off the main road at the top of a small incline and faces towards the mountains and overlooks the village rooftops. There are parking facilities for 3 cars at the cottage in the enclosed outside space. Inside the cottage, guests can find there are 3 very comfortable bedrooms with 1 king including en-suite, 1 king and one twin room which is located downstairs next to the family bathroom. Additionally, there is a lounge facing the mountains but when the curtains are closed, there is a TV with plenty to watch. There are available subscriptions such as Netflix, Amazon Prime and all the channel Apps. Furthermore, there is a very well-equipped kitchen and separate dining room, for those who enjoy cooking and having a night in.
Near the cottage, there are convenient places to shop for groceries such as the local Co-Op, which are very well stocked. Deliveries can be ordered from stores such as Asda, Tesco and Sainsbury's. There is also a Killin Food Market called Neighbour Food, where various local suppliers sell meats, cheese, baking, preserves etc. Orders can be placed online and then picked up from the Post Office on the Main Street on a Friday. Additionally, there is also a Fishmonger who is on the Main Street around 1.30pm on a Wednesday.
For those who prefer to eat out, there are many fine places to dine out such as the Courie Inn, which is at the bottom of the road and there is also the Killin Hotel at the end of the village. For an alternative brunch idea, the Smokehouse is situated behind the Dochart Inn in which they sell hot and cold smoked salmon and also have a tasting counter and Champagne Bar.
As for the location itself, Killin is such a beautiful village, as is the surrounding area. The area is ideal for gentle walks, hikes, water sports and of course the third highest Munro in Scotland, Ben Lawers for the more adventurous. We fell in love with the place at first sight and just knew this is where we wanted for a peaceful escape!
Falls of Dochart in Killin