Now that lockdown restrictions have eased and our daily lives are slowly returning to normal, what better way to take advantage of this opportunity than by booking a weekend getaway! Whether you are familiar with booking at one of our beautiful accommodations or you are new to the whole process, here are a few top tips that will help you plan your next holiday destination!
Tip 1: Utilise our Easy to Navigate Homepage
Picking your next holiday trip can be extremely overwhelming as there are various factors to take into consideration such as the location, the guest capacity, whether the accommodations are dog friendly etc. Therefore, a great tip would be to narrow down your preferences by selecting your most desired location, guest occupancy and any additional facilities. This ensures that the accommodation that you choose to stay in will cater to all your needs! Interested in booking your next holiday getaway at Cooper Cottages? Click on the link below! https://coopercottages.com/accommodation/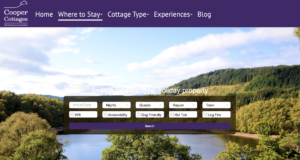 Tip 2: Look at Reviews of The Properties
Once you have picked your ideal location along with the accommodation you would like to stay in, a great tip would be to read the reviews! By looking at feedback that have been left by previous guests, this will allow you to assess the credibility, reliability and the quality of the accommodation. Check out the link below to have a read through some of the reviews for our lovely cottages at Cooper Cottages! https://coopercottages.com/reviews/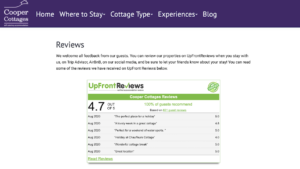 Tip 3: Research Nearby Activities of Each Area
The key to a perfect holiday spot is making sure that there are fun activities and events near your accommodation! Such activities can involve being at one with nature such as walking in the Highlands (www.walkhighlands.co.uk) or a boat ride among Loch Lomond (www.lochlomond-scotland.com). Why not soak your worries away with a relaxing spa within the Gleneagles Spa (www.gleneagles.com)or if you're in the mood to soak up knowledge from various historical sites, you can visit the many historical architecture that Scotland has to offer such as the Stirling Castle (www.stirlingcastle.gov.uk) or the National Wallace Monument (www.nationalwallacemonument.com). To find out more about the adventures you can go on whilst staying at one of our cottages, click on the link below! https://coopercottages.com/things-to-do/
Tip 4: Check out Our Social Media Pages
The great thing about living in the digital era is that we can now see how companies interact with their customers online. A final tip would be to have a scroll through the company's social media pages! In doing so, this can allow for a better, more 'personal' understanding of the brand as a whole. Content that you may generally find when searching for your next holiday destination are high quality pictures of the accommodations, suggestion of activities and events that are nearby and what previous guests had shared about their stay. To find out more about what Cooper Cottages has to offer, take a look at some of our social media pages linked below!