Today marks the end of ten days of celebrations for this year's Perth Festival of the Arts. Artists of all kinds performed and/or exhibited their work at the city's most popular venues, attracting spectators from all over the country – and beyond. One of the most unique events was Only in Whispers, a spooky night at the museum. The doors of Perth Museum and Art Gallery opened each evening to welcome a group of enthusiasts of the supernatural. Based on Perthshire's most popular myths and legends, the event took all guests on a thrilling journey thanks to ghost stories, historical artefacts and magical performances.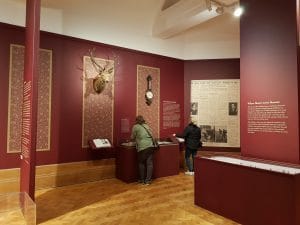 Walking through narrow corridors filled with squeaky doors, sinister objects and blood-curling tales whispered in every corner, the first part of the tour resembled an old haunted mansion. Its main charm? The opportunity to examine old newspapers, photos and many more objects to learn about Perthshire's history, while also being alert and aware of all the spooky things happening around you.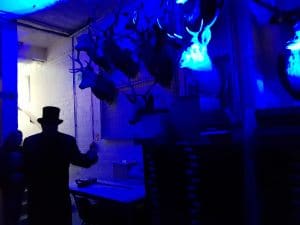 But the truly horrifying ghost stories were told in the museum's basement, through dark corridors among hundreds of old (and probably haunted) paintings, weapons and many more ambiguous objects. Gary Knight narrated the tales of local ghosts and how they came to be in this great torchlight tour, accompanied by the lovely Lynne. Visit historyandhorrortours.com for more information about Gary's work and where you can find his alter ego John Larg. Read our blog post about Gary and Lynne's tours of the Haunted POW Camp in Comrie.
To end this wonderful night, professional mind reader and illusionist Cara Hamilton charmed everyone in the audience during her spectacular
show. Cara's unique gift allows her to read your mind like very few psychics can do, so if you can you should definitely attend one of her upcoming events. Visit her website for more information.
Perth and Kinross Council organises entertaining shows and events all year round. Visit culturepk.org.uk to find out what's on in the area.