Tourists and locals alike flock to the dozens of distilleries located around the country every year, and for good reason. Whether or not whisky is your drink of choice, learning about the process behind Scotland's liquid treasure can be a fascinating experience. Especially where traditional methods are still used. Glenturret distillery in Crieff is the oldest in the country, and the only one still mashing by hand and cutting by eye. Let the lovely tour guides take you on a journey through the history, science and of course art of whisky making.
The tour starts from the very first ingredient: barley. The 108 year old mill in the first room is still used to this day to grind the malt down to its three main constituents before it can be mashed. In the next room is the last remaining hand-operated mash tun in Scotland. What makes it so special? Stirring the mixture of grains and water by hand with a wooden rouser gives better control of the mash. This allows them to collect over 99% of the sugars, and therefore produce more alcohol.
Fermentation is the next step, and it can be observed first-hand during the third stop of the tour. In the eight large wash backs, sugars are converted into alcohol during a 100 hour long process. Time is crucial in the making of Glenturret whisky, but with patience come great rewards. The two copper stills are run very slowly in order to achieve sweeter tones in the spirit. Once again, the success of this traditional process depends entirely on the talented stillmen, who cut the spirit by eye in the hand operated spirit sample safe.
At this point, water from Loch Turret is added to the spirit to reduce its strength. After this is done, the final product can finally be filled into oak casks and left to mature in the warehouse. You will learn all about the different types of casks and their essential role in the creation of Glenturret's unique aromas. By the time you leave the last room you will be an expert on the whisky making process, but will you be able to apply this new-found knowledge next time your order a drink at the pub?
To help you with that, your tour guide will take you to the bar and teach you all you need to know about the skill of whisky tasting.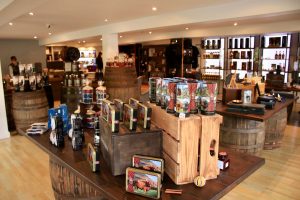 At the end of your visit you can stop at the gift shop to purchase high quality products to bring back home, or have a delicious meal at Glenturret café and restaurant. This beautiful venue can also be booked for private events.
Visit the Glenturret website for more information.