Cycling around Comrie, Scotland offers a delightful experience, with stunning landscapes and a range of attractions. Cycling in Comrie provides the perfect opportunity to appreciate the natural beauty of the Scottish countryside, experience its rich culture and history, and enjoy a leisurely, stress-free ride in a peaceful environment. Here are five great things about cycling in Comrie:
Scenic Routes
Comrie is surrounded by breathtaking natural beauty. Cycling through the area allows you to enjoy stunning views of rolling hills, lush forests, and serene lochs. The picturesque landscapes make for an incredible backdrop as you explore.
Quiet Roads
Comrie is known for its peaceful and less congested roads, making it an ideal destination for cycling. You can enjoy a tranquil ride without the distractions of heavy traffic, allowing you to connect with nature and unwind.
Cultural and Historical Sites
Cycling in Comrie offers the opportunity to explore historical and cultural sites, such as the Deil's Cauldron waterfall and the Earthquake House, which are easily accessible by bike. You can immerse yourself in the local heritage while enjoying the ride.
Outdoor Activities
The area around Comrie offers numerous outdoor activities, including mountain biking trails, hiking paths, and water sports on Loch Earn. Cycling serves as a fantastic way to access these activities and explore the diverse terrain.
Local Hospitality
Comrie is a welcoming community with charming cafes, tearooms, and restaurants where you can take a break, enjoy local cuisine, and meet friendly locals. The warm hospitality adds to the overall cycling experience.
Path suggestion – Comrie to St Fillans
A lovely flat cycle along quiet back roads and old railway line cycle path. You can start this route from Comrie Croft, although this involves a couple of miles of hillier and rougher terrain. Alternatively start in Comrie over the Ross bridge for the full family friendly experience.
It's 18.7 miles in total. 12.2 of these are paved, and 6.5 miles unpaved.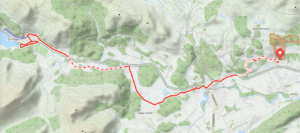 For those of you more experienced with mountain biking and looking for an adventure, there are plenty of exciting downhill trails in the Achray Forest area to explore.
There are also some excellent downhill trails for mountain biking at Comrie Croft. With bike rental and workshop on site, this is the perfect place for those looking to experience the thrill of riding downhill trails.