The Highland Chocolatier, Iain Burnett, is a chocolate artisan based in the heart of Scotland. Iain makes a wide range of treats ranging from gourmet chocolates, luxury gifts and exceptional seasonal ranges.
And Iain has been voted once again 'The World's Best Dark Truffle'!
The Highland Chocolatier has received every single one of the 7 awards for chocolate truffles at the British Finals of the International Chocolate Awards. The Dark Velvet Truffle received Gold in the British finals, but also the highest score of any unflavoured dark truffle judged in any of the regional finals worldwide.
Iain's personal favourite is the Unenrobed Dark Velvet Truffle. It's made with intense São Tomé single origin dark chocolate, with naturally occurring notes of spices and fruits, and balanced with fresh Scottish cream and then dusted with rich cocoa powder.  It took three years to develop and its texture and flavours get him every time.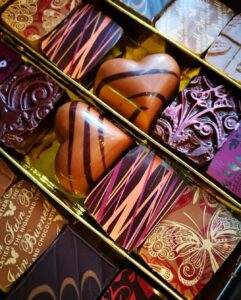 Iain Burnett states that "avoiding additives and using only natural ingredients creates painstaking challenges every week for the team to create the velvety textures and flavours. This award is reassurance that chocolate critics from around the world can taste the difference! We are also receiving that award on behalf of the farmers of the local cows that produce the fresh cream and the cocoa farmers on São Tomé island."
Iain Burnett featured as part of the final episode of "The Hidden World of Hospitality" by Tom Kerridge on BBC2 on 21st of September.
Watch the episode here. 
We recommend incorporating a trip to the Highland Chocolatier as part of your trip with Cooper Cottages.