'When staying within a self-catering holiday accommodation, an important thing to take into consideration is how you're going to spend your typical day! You may be wondering what type of activities are nearby and what are the best places to grab a bite to eat? To help answer those question, this blog will serve as a small itinerary that you can refer back to when staying at the Waterside Apartment in Braco.
The Waterside Apartment is a stone built terraced cottage situated near the River Knaik, in the village of Braco. There is easy access to places such as Dunblane, Stirling, Glasgow, Edinburgh and Perth. The apartment itself is all on one floor with level access from the adjacent parking spot (ideal for those with limited mobility). Features include an open plan lounge-kitchen area with a log fire (perfect for fall season) and a back garden (great for kids to play in)! There are many places you can visit when staying at this amazing accommodation such as the Ardoch Roman Fort, the Gleneagles Golf Courses, The Braco Castle and the Braco Coffee shop!
If you do decide to stay within this fantastic accommodation, here are some great places to visit on your next stay!
*Disclaimer
 Due to Covid-19 and strict government regulations, all the activities mentioned are subject to change depending on the current safety regulations and guidelines.
If looking to immerse yourself in history, look no further than the Ardoch Roman Fort. Some interesting factoids about the Ardoch Roman Fort was that it was built around 80AD and was rebuilt twice as Emperor Severus had built a marching camp for his army comprised of over 30,000 strong men! The remains of this fort are considered some of the most impressive of those built by the Roman Empire. The reason behind the fort surviving so well is largely due to 1700s landowner Sir William Stirling. He closed off the fort in order to prevent the land from being ploughed – a process that can end up destroying the remains of this historical landmark! To find out more, visit the Castles Forts Battles and the Undiscovered Scotland Websites!
For those who are golf enthusiasts, why not visit some of the amazing golf courses within the Gleneagles Hotel. Gleneagles is known to be one of the leaders within the golfing world as they were the recent hosts for The Ryder and Solheim Cups tournaments! The various golf courses offer a range of benefits which include three championship golf courses and a 9- hole course, and extensive practice facilities! There are various gold courses to pick from such as The King's Championship Golf Course, The Queen's Championship Golf Course, The PGA Century Championship Golf Course, and The Wee Course. To find out more information, visit the Gleneagles's Golf section of their website
                                                                                                                             The Queen Championship Golf Cours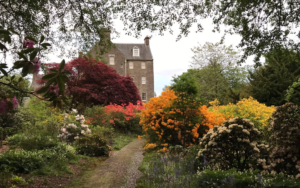 If you are in the mood for a mid-evening stroll, the perfect location would be Braco Castle. Braco Castle is a 19thcentury landscape garden with an amazing range of flora including trees, shrubs and colourful plants! By taking a stroll and stopping to admire the beautiful scenery, this can provide a wide range of benefits both physically and mentally. Some of those benefits include being more energised, having a stronger and more focused headspace and typically being healthier in the long run! To find out more information about this stunning garden, visit the Scotland's Garden Scheme website.
If ever feeling peckish and looking for a fine place to eat, a great place to visit is Braco Coffee Shop, Situation in the village of Braco, Perthshire. The coffee shop offers various selections of cakes and drinks along with various breakfast items, soup and toasties. Another reason to visit Braco Coffee is their "save the planet, one coffee at the time" pledge in which their current aim is to go compostable for the majority of their takeaway packaging. The purpose behind making their packaging more compostable is so they can then be added into fertiliser and soil improvers to further improve future crops. In addition to that, Braco Coffee are also selling reusable cups and bottles which helps minimise wastage and helps consumers be more environmentally friendly! To find out more, visit the Braco Coffee website.
                                                                                                    Photo Credit: @Braco Coffee Facebook Page
Those are some of the great places you can visit when deciding to stay at Waterside in Braco!