I hope that everyone is enjoying 2022 thus far! There are so many incredible places to visit when going on a holiday in Scotland. Why not celebrate the new year by going on holiday or taking a few days off to visit Balquhidder. Some of the amazing landmarks and activities to embark on with loved ones include a visit to Loch Voil, admiring Balquhidder Church, exploring Rob Roy's Grave, going on an adventure in Kirkton Glen and or to Creag an Tuirc, alongside cycling through Balquhidder through the National Cycle Network. If looking to book your holiday for 2022 at Balquhidder, check out our lovely cottage Kirkton Bridge.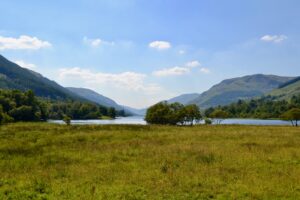 Loch Voil
A lovely loch to visit when going on a holiday in Balquhidder is Loch Voil. Loch Voil can be described as a narrow, 8km long freshwater loch that flows to the west of Balquhidder. The loch drains water from the smaller Loch Doine through the River Larig and is drained by the River Balvaig at the northern end. Loch Voil can be accessed via a small single track from Balquhidder, which leads towards Inverlochlarig. From there, there are various mountain walks you can embark on and it is an ideal spot for cycling. Bike hire is available at the head of Balquhidder Glen. You can enjoy the stunning scenery of the loch and of the Strathyre Forest. There is also the cycle route 7 in Balquhidder if looking to explore the scenery on bike. Loch Voil is a great destination to spot Salmon and Brown trout. Visiting Loch Voil is a great way to embrace more of nature with the scenic views and wildlife such as deer, otters, squirrels, pine martins and various bird types such as eagles, barn owls and ospreys.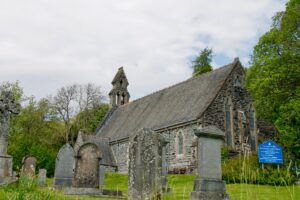 Balquhidder Church
There are also fantastic landmarks to visit such as the Balquhidder Church. Balquhidder Church was built in 1853 by David Bryce. The ruins of the old church can be found in the graveyard, which includes the supposed resting place of Rob Roy MacGregor. Inside the church, there is a modern interior which offers a distinct contrast to the surrounding ruins and gravestones. There is also an abundance of wood that is utilised for the ceiling, the pulpit and the Communion table. Balquhidder Church is a great place to visit as it is free of charge and located north of Loch Voil, in the centre of Balquhidder. There is also a lovely nature walk which leads to landmarks such as Loch Voil and Loch Earn.
Rob Roy's Grave
In addition to Balquhidder Church, this is also considered the final resting place of the Scottish outlaw Rob Roy MacGregor. Rob Roy is buried alongside his wife and two sons'. Rob Roy's Grave is a popular attraction site for visitors, which pays homage to one of Scotland's favourite characters. Considered an outlaw to the English and a hero to the Scottish, Rob Roy's Grave is the starting point if you are looking to learn about his eventful and fateful life. The grave is located near Balquhidder Church which is surrounded by the majestic mountains. Behind the churchyard is a path that leads up to Kirkton Glen.
Kirkton Glen
Kirkton Glen is a forestry valley that runs north from Balquhidder. Walking through Kirkton Glen, you can admire the forestry such as Scots pines and views of the Corbett of Benvane across Balquhidder, with spectacular views from the top looking back down the valley.
Creag an Tuirc
Explore Kirkton Glen is a wonderful chance to also discover Creag an Tuirc, on a short path branching off the Kirkton Glen trail. Creag an Tuirc (which translates to crag of the boar) is described as a grassy, small hill on top of a crag. The spot is marked with a large cairn and a bench. Creag an Tuirc is said to be the ancient gathering point of Clan MacLaren. When facing troubling times, runners would alert members of the clan to arm themselves and to assemble at this very location, to which 'Creag an Tuirc' was the clan's rallying cry. This location provides a picturesque view of Balquhidder village, Glen Buckie and a backdrop of Benvane.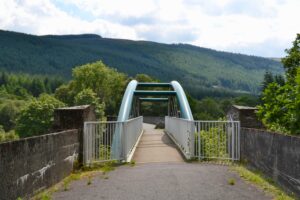 National Cycle Network
There are also fantastic cycling and walking routes if you are exploring Balquhidder and the surrounding villages, with the Sustrans National Cycle Network connecting many villages. Sustrans is a charity that aims to make it easier for people to walk and cycle. The organisation's vision is to cultivate more clean air and green places, and promote a healthier lifestyle. The Sustrans National Cycle Network offers great cycling routes between various various towns within the National Park. You can enjoy safe cycle routes from Balquhidder, leading south to Strathyre and Callander, or north to Lochearnhead and Killin.