I hope everyone had a lovely Christmas and were able to spend the festive day with your loved ones! Although 2020 was a challenging year, it's important to feel hopeful and optimistic towards the new year! Even though travelling options may seem limited for 2021, there are still so many amazing places and hidden gems waiting to be discovered. If you are planning a holiday trip for next year or if you are still unsure on where to visit, why not stay at some of our lovely self-catering cottages designed for a relaxing couples retreat! There are so many relaxing and fun activities you can undergo whilst staying in the Crombie Cottage, Tyndrum and Chauffer's Cottage, Comrie!
Crombie Cottage, Tyndrum
Crombie Cottage is one of our lovely cottages that is situated within the popular West Highland Way. What makes the self-catering cottage a relaxing stay for couples would be the beamed sitting room and a log stove that creates that relaxing and cosy atmosphere! The rooms within the cottage are modern and spacious, with a fully equipped kitchen that has a high ceiling and skylights which creates a bright and airy cooking and dining area.
If you decide to stay in the Crombie Cottage, there are various activities that you can undergo within the accommodation. Such activities can involve utilising the fully equipped kitchen to make home cooked meals or to bake delicious treats! Other activities can involve cosying up by the log burning stove and enjoying your favourite movie or TV show!
Staying at the Crombie Cottage can provide the opportunity to immerse yourself in nature and to rediscover Scotland's beauty! This can involve visiting nearby, stunning locations such as the Glenfinnan Viaduct and Glen Coe. Glenfinnan Viaduct is a railway viaduct that is on the West Highland Line, situated in Glenfinnan, Scotland. This is the perfect location to experience stunning scenery and a special atmosphere. Fun fact – this specific area was used to film the second and third installations of the magical Harry Potter series! Glen Coe is located in the Highlands, more specifically within Lochaber Geopark. This scenic view of towering mountains and the deep valley was carved out by ice glaciers and volcanic explosions centuries ago! The Glencoe village makes for a perfect base to discover some of Scotland's hidden gems in the Lochaber area! Staying at the Crombie Cottage can allow you to encounter a 'Home from Home' experience by offer a relaxing and an adventure packed couple's retreat that is close to home!
Chauffeur's Cottage, Comrie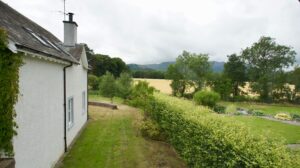 Chauffeur's Cottage is a modern stylish holiday apartment that is situated in the outskirts of the Perthshire village. Features that make the self-catering cottage a relaxing stay for couples would be the large picture window that looks over the open countryside and the skylights that gives the room a light and relaxing atmosphere! The cottage also has a large garden behind the main house.
If you do decide the stay in Chauffer's Cottage, there are a diverse range of activities that you can undertake within the accommodation. Within one of the spacious rooms in the cottage, there is a bookshelf that is stocked with a collection of books. Why not spend the day relaxing by getting lost within a good book! In addition to the books, there is also a TV and a DVD player.
By staying in Chauffeur's Cottage, there are various, nearby destinations that you can visit such as The White Church. The White Church was built in 1805 and is situated within the heart of the historic conservation of Comrie. It is identified as one of Comrie's most iconic landmarks! There are also other stunning destinations to discover such as enjoying a riverside stroll beside the River Earn and immerse yourself in the scenic views! The River Earn flows out of Loch Earn and merges with the River Tay at the Bridge of Earn. Discover other hidden gems that Scotland has to offer such as climbing up Melville Monument!