It's now December, which means 'The Most Wonderful Time of the Year' has started when people are preparing and looking forward to the festive season. Although this festive season will be quite different in comparison to previous years, there are still various things worth looking forward to! Such things involve Christmas shopping for your loved ones, indulging in seasonal foods and drinks and spending time as a family! Let's take a look at some of the things to look forward to this time of year!
Christmas Shopping & Holiday Sales
Now that Christmas is approaching, people are now starting their Christmas shopping. Despite some stores being unable to reopen for Christmas shopping, you can still find so many gift ideas and inspirations from online shopping! Online shopping will make it easier for you to visit and explore multiple brands, browse various gift options and pick up some last-minute items – all shipped and delivered to your doorstep! Additionally, look out for those Christmas sales that last throughout the whole holiday season!
If your feeling stuck on where to shop for amazing gifts, why not check out some of these amazing British brands such as House of Fraser and John Lewis. If looking to support smaller creators, why not check out notonthehighstreet.com, a platform that offers various unique and personalised gifts by UK based small, creative businesses!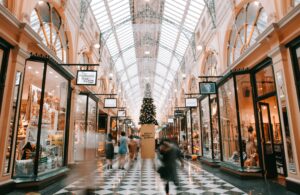 Photo by Heidi Fin on Unsplash
Seasonal Food & Drinks
Something to look forward to are the seasonal foods and drinks that are offered during the Christmas season. Sipping on these festive drinks while indulging in delicious treats will get you in the Christmas mood! Some examples are the classic Starbucks' festive drinks such as the Eggnog Latte, the Gingerbread Latte, the Toffee Nut latte and the new exclusive Truffle Deluxe Hot Chocolate! Other examples of festive drinks involve Terry's Chocolate Orange Hot Chocolate, After Eight Hot Chocolate and Quality Street The Purple Latte provided by Costa Coffee!
However, why not check out some local, family owned businesses that are offering a diverse range of festive drinks and treats. An example includes Campbell's Bakery; a family ran bakery situated in Comrie, across from St Kessog's Square. Campbell's Bakery are offering various festive treats such as Christmas Cake Slices, Mince Pies and Christmas Pud Truffles!
             Photo by Kristina Paukshtite from Pexels
Chilly Walks & Christmas Jumper Season
Now that the weather is getting slightly chillier, this now gives you the opportunity to bundle up warm in your winter clothes and head out for a nice, long walk. With the festive seasons being a busy and stressful time of year, why not take the chance to immerse yourself in nature by walking through the city or through the country side and experience the crisp, fresh air and clear skies! This also gives you the chance to start wearing your favourite Christmas jumper(s)!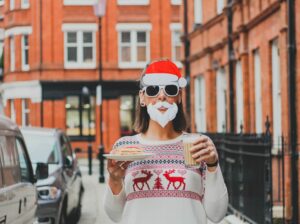 Photo by Toa Heftiba on Unsplash
Picking Out & Decorating the Christmas Tree
A staple in the majority of people's household during this time of year is a Christmas tree! Picking out the Christmas tree and to then decorating the tree with various ornaments can be a fantastic way to bond as a family! There are many choices to make regarding the Christmas tree you can choose, ranging from the type of Christmas tree (real or plastic) to the height and size of the tree. None the less, having a Christmas tree will definitely make your home more festive and will get you in the Christmas spirit!
  Photo by Jorge Dominguez on Unsplash
Enjoying Winter Break
Now that 2020 is nearly at an end, there is no better feeling than having a few weeks of during the Christmas break. With your time off, there are various things you can accomplish such as catching up with friends and family through Zoom calls, adopting new hobbies or making a list of your new year resolutions!
Creating Delicious Christmas Treats
Something else to look forward to is creating various Christmas treats for your friends and family! There are various treats that you can make such as Christmas Sweets for those who love chocolate, Christmas Truffles which will make a fantastic gift for loved ones and the classic Peppermint Candy Canes which are a fun treat to make with kids!
There are also some Scottish themed recipes that would go perfect with any Christmas dinner! An example could be Haggis Bon Bons by The Scottish Butcher. A Scottish delicacy that involves bite sized, breaded haggis bits. Another example would be the classic Shortbread, which would make a perfect treat with your morning cup of coffee!
     Photo by Dilyara Garifullina on Unsplash
Watching Christmas Movies & Listening to Christmas Music
During the festive periods, what better way to spend time with loved ones than having a Christmas film night! This gives you the perfect opportunity to snuggle up on the sofa and watch all the festive classics. Some classics involve Home Alone, Arthur Christmas and Love Actually!
With Christmas movies, comes listening to Christmas music all throughout December! Some songs to get you in the Christmas mood include 'Last Christmas' by Wham!, 'Merry Xmas Everyone' by Slade and 'Do they Know it's Christmas' performed by Band Aid – the Christmas single was initially released to help raise money for charity!
                  Photo by cottonbro from Pexels
NEW YEARS EVE
Now that it's December, this means the end of another year! Although 2020 has been a very challenging year, it is important that we all remain hopeful for the year 2021! Approaching the end of 2020 gives us time to reflect on the year that we had and move forward with a positive and optimistic attitude by setting new years' resolutions and goals!
              Photo by

 

Roven Images

 

on

 

Unsplash
We hope that reading this blog post has made you excited for the rest of December and we at Cooper Cottages wish you a happy holiday!