How Nature Can Contribute To The Quality of Your Life
This year, everything is about slowing down. But this is not necessarily a bad thing. As we are saying goodbye to Autumn soon, this is the best time to take a moment for ourselves and just reflect. We have collaborated with Patrick from Eternal Mountain to show you how nature can improve our well-being, especially during difficult times like these. The 'Silent' tour is a perfect example as you need to turn off your phone and just be present. In a sense, that is a break for our minds as we are not filling them with the usual everyday things.
"There is no magic formula when it comes to the basic essentials to a healthy mind," says Patrick. "A 20-minute walk in nature a day would be enough to reap the benefits. The number one thing would be just to slow down and pay attention to your surroundings." Below Patrick shares some thoughts on mindfulness when walking and how we can truly connect with the landscape.
Sight
When you look at the landscape, what do you notice first? Can you tell how far away the mountain is? Do you notice whether it is rainy, or the sky is clear? How well do you know your favourite place, or do you prefer to explore? Nature is so beautiful, and especially here in Scotland, so green and epic in some places. Capture everything, even the colours.
Touch
Are there any yellow/orange leaves or any rocks around? As kids, we used to pick up a rock and throw it in the river as far as we can. Or we would pick up branches to use as sticks. Or even just pick up flowers we found enticing.
Smell
When living in the city, we are missing an important aspect – fresh air. It makes us sleepier and hungrier at first, but we definitely feel a difference when we go back to the city. Have you heard the saying 'it smells like winter' or 'like spring'? Nature has its own unique smells throughout the year. Which one is your favourite?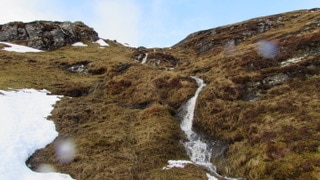 Hearing
The birds singing is one of the happiest sounds. The water rumbling if you are close to a river or the wind if you are up high. One of the best sounds could be heard this time of the year when you step on fallen leaves, this is the best time to go for a walk.
Taste
If you are lucky, you can find berries or any other fruit this year around or even if you grow something yourself. There is something so special when you are eating home-grown food or when you pick it up straight from nature.
Do you feel any different from experiencing this? If you go out for a walk like this almost every day, it could have a profound effect on your mental wellbeing. This could also be called the ontology of nature. The meaning of ontology in the Oxford dictionary is 'The branch of metaphysics dealing with the nature of being.' Patrick adds "I refer to the ontology of Nature to be less about the investigation (of what does exist) and more about the essence of an animate or inanimate object of Nature. Only experience can testify such a quality of life, as we attempt to move away from a consumer-based society'.
Patrick's tours are available from Killin. If you want to know more, check out Ben Lawers: The Ontology of a Mountain and our holiday homes in Killin.