Wellness Tourism has become a massive trend within the last few years. This isn't all too surprising considering that there has been significant interest in fitness, health and well-being. According to an annual review conducted by VisitScotland, interest in wellness tourism has been increasing at twice the rate of tourism in general! You're probably thinking, what exactly is wellness tourism? And most importantly, what benefits can wellness tourism provide us?
Wellness Tourism is when tourists take the time to travel to a specific holiday destination with the quest of maintaining and/or further enhancing one's health and well-being. The purpose of wellness tourism is to improve our quality of life. There are various wellness activities and experiences you can embark on which can help energise and cleanse your mind, body and soul. Such activities include intuitive eating, fitness activities, being at one with nature, spiritual and connection retreats, spa treatments and creative outlets. Let's take a look at the various activities and experiences that you can explore in Scotland when staying at one of our lovely accommodations!
Intuitive Eating
We all know that a healthy mind and body starts with your diet. intuitive eating has grown in popularity over the years and has made its way to media and research. Intuitive eating can be defined as a mind to body health conscious eating approach which is centred around the "10 principles" initially coined by the two dieticians Evelyn Tribole & Elyse Resch in 1995. Essentially, intuitive eating involves listening to our body's hunger cues and acknowledging the moments when we are full or if we are still hungry. By paying attention to the direct messages our body is sending us, this will allow us to satisfy our physical and psychological needs. If interested to find out more about intuitive eating and the 10 Principles of Intuitive Eating, click the link below!
https://www.intuitiveeating.org/10-principles-of-intuitive-eating/
Something that we're all guilty off when going on holiday, is not taking into consideration the type of food we are fueling our bodies with! It is extremely easy to eat the types of food that we wouldn't normally eat in our day to day living. Below are a couple of recommendations of restaurants which provide healthy, locally supplied meal choices to enhance your culinary experience!
The Four Seasons Hotel – Perthshire
The Four Seasons provide a range of Scottish cuisine which varies from traditional to more creative dishes. The chef is known for using the best ingredients that are supplied locally in order to produce high quality meals!
 The Monachyle Mhor Hotel – Lochearnhead
The Monachyle Mhor Hotel is a family owned business located in the heart of Loch Lomond and the Trossachs National Park. The restaurant provides hearty meal options with a daily-changing evening menu.
Fitness Activities
What better way to recharge while on holiday than by embarking on a fitness journey! Due to people making healthier decisions in their daily lives, it's no surprise that travellers are wanting to adopt these new practices when travelling. Therefore,
travellers are now increasingly looking for accommodations that can cater to a healthy lifestyle! Some of the activities that can help recharge and energise travellers involve visiting the local gym to break a sweat or taking a couple of fitness classes such as Pilates. If you're stuck on where to get your fitness on, below are a couple of recommendations.
McLaren Leisure Centre – Callander
The McLaren Leisure Centre is a community leisure and sport centre that provide various high-quality facilities and friendly service. The centre offers a range of services to help get your heart pumping such as fitness suites, climbing walls and a sauna to help relax your muscles after a vigorous workout!
The Peak – Stirling
The peak is a sports centre based in Stirling that have a diverse range of activities to help release plenty of endorphins such as a climbing wall, a 25m pool and an ice rink!
Nature Experiences
There is plenty of research that shows being at one with nature provides many benefits for both physical and mental health. People that have embraced nature when living their day-to-day lives are shown to be more active and energised, mentally stronger and resilient and are typically healthier in the long run! Scientists have discovered that by spending at least 2 hours a week in nature has been linked with good health and well-being for both the body and mind! When planning for your next holiday, make sure that your accommodation has various nature destinations nearby. Activities that can help contribute to your 2 hours of being surrounded by nature can involve going for an evening stroll, hiking up majestic mountains and going for a bike ride! Below are a couple of suggestions of nature spots you can visit to take in the fresh air and soak in some vitamin D from the sun!
 Walk Highlands – Across Scotland
Walk Highlands offer an extensive range of guides for walking expeditions! There are routes available all across Scotland.
Three Saints Way – Killin to St Andrews
The Three Saints Way offers an invigorating walk beginning at Killin and finished on the coast of St. Andrews. Along the way, experience the breath-taking views of the rural scenery!
Spiritual & Connection Retreats
When thinking about our health and well-being, the main thing that probably comes to mind is taking care of our physical body through regular exercise and a well-balanced diet. However, it is also vital
that we care for our mental, emotional and spiritual bodies as well! Due to the extreme busyness surrounding our daily lives, it can be hard to take a break from it all. Having a busy schedule along with working hard and no play can lead to increased stress, mental burnout and emotional drainage! Whether you are planning for a long-awaited holiday or for a quick weekend getaway, it is definitely worth while looking into ways that can help restore and reset your mind, body and soul! Such activities involve yoga and spiritual retreats. Below are a couple of retreat centres that can promote a healthier mind and soul!
Dhanakosa Buddhist Retreat Centre – Lochearnhead
The Dhanakosa Buddhist Retreat Centre is located in the Scottish Highlands within Loch Lomond and Trossachs National Park which offers the perfect conditions for a retreat. The retreat centre presents a diverse range of retreats such as yoga, Tai Chi, and introductory meditation teaching.
Tranceform Therapies – Stirling
Tranceform Therapies is a centre based in Stirling which aim to promote a more mindful lifestyle by offering meditation practices, one-to-one coaching sessions and seasonal workshops. By implementing these mindful techniques, this can help reduce feelings of stress and anxiety and achieve a more peaceful lifestyle.
Spa Treatments
One of the best ways to make the most out of a well-deserved holiday is by soaking your worries away at the spa! Although spa treatments can be viewed as a luxurious way to pamper ourselves, there are many more benefits that are associated with the feel-good treatments. Fun fact, the word "spa" is derived from the Latin phrase 'salus per aquam' or 'sanitas per aquam' which translates to "health through water'. Spa treatments can be a wonderful way to enhance your physical, mental and emotional health and well-being. Such treatments involve massages which calms the nervous system, reduces stress and anxiety and promotes increased blood circulation. There are also hot stone massages that can assist with pain management and also therapeutic massages such as lymphatic drainage massage. If you're in the mood for relaxation, check out some of the suggestions below!
Gleneagles Spa – Perthshire
The Gleneagles Spa offers a diverse range of traditional therapies alongside complementary and alternative treatments for the face and body.
Crieff Hydro Spa – Perthshire
The Crieff Hydro Spa offers a range of wellness treatment such as aromatherapy massages, a steam room and a sauna.
Creative Outlets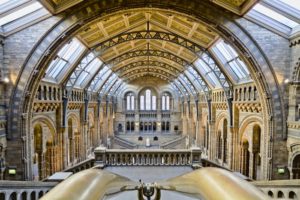 Did you know that being creative can improve your health and well-being? There's no surprise that we are a creative species. This can be traced back to prehistoric times as our ancestors had left their first marks on the walls of caves! There is research that suggests that embracing our creativity can actually improve our physical and mental health and wellbeing. When going on holiday, there are many ways to get in touch with your creative side such as visiting local museums and art galleries. By soaking in the historical knowledge and the beautiful and breath-taking art that both museums and art galleries have to offer, this provides a plethora of benefits. Those benefits involve providing a positive distraction to a busy lifestyle, opportunities to find and purpose in life and offers positive emotions such as hope, enjoyment and optimism!
Kelvingrove Art Gallery and Museum – Glasgow
The Kelvingrove Art Gallery and Museum in Glasgow is Scotland's 2nd most view tourist destination and offers an impressive collection of arts within Europe.
BLiSS Trail – Scottish Villages
The BliSS Trail is a Scottish art and architectural instillation that links the villages of Strathyre, Balquhidder, Lochearnhead and St. Fillans. This trail was established in 2016 and is designed for you to admire amazing art and architectural instillations as you explore through the park!