Located in Comrie, Auchingarrich is the perfect place to spend a day with the little ones. Rain or sunshine, the wildlife centre provides its guests with lots of different fun activities.
While walking along the paths on these stunning hills in the Perthshire countryside you will have the chance to see a variety of animals in their natural habitat: deer, goats, sheep, horses and so many more species!
One of the main attractions is the hatchery: children are fascinated by small animals (and so are adults, if we have to be honest), so why not take them where they will have the chance to hold, pet and observe chicks, guinea pigs and bunnies? The members of staff will assist you and answer all of your questions about the new-born animals in the room.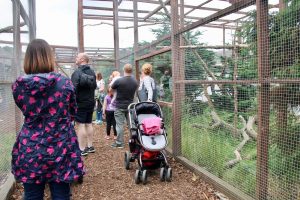 If you happen to be around between 12 and 2 p.m. you should definitely make the most out of feeding time. Follow the keepers as they bring food to the furry residents of the park and learn more about their lifestyle and eating habits.
As fascinating as these creatures might be, children will be children and they will inevitably feel the need to let off some steam. The wildlife centre provides many different activities to keep them engaged: the most popular, pony rides, are on every week Friday – Tuesday between 2 and 3 p.m. for children aged 3-12. If your kids prefer running wild, they will have access to both indoor and outdoor playgrounds, a mini golf course, and the tractors circuit, where they will be able to "drive" their own little vehicles.
All this action will certainly get your stomachs growling, so when lunch time comes, head over to Torlum Coffee Shop and enjoy a nice hot meal with your family. The café is also available for private hire for parties and functions.
With all its attractions, Auchingarrich is guaranteed to make your family trip fun and memorable, and if you need a souvenir from your day out, the gift shop and Jenny's place will have a wide range of gadgets to choose from!