We hope you enjoyed our blog post featuring questions relating to the Penthouse Apartment. This week, the owner of the Allt Beag accommodation answered our questions regarding the amazing benefits that guests can get to experience when staying in this wonderful accommodation!
How would you describe Allt Beag?
Allt Beag is a' get away from it all' property all on one level. Sitting at the side of the most idyllic walks with views of Loch Earn. Inside is bright and airy making a great family accommodation for up to 5 people. The Allt Beag sleeps up to 5 people and offers a relaxing holiday experience!
What can guests expect when staying at Allt Beag?
The open plan layout is great for families and friends to enjoy the company of others. There is also a large kitchen that is fully equipped with essential amenities that is perfect for preparing home cooked meals!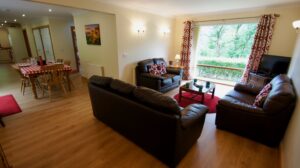 What do guests love the most when staying at Allt Beag?
Past guests have commented on their enjoyment of seeing wildlife from the windows. There are also large sliding doors within the dining area that which takes guests to the rear garden area upon which guests can spot local wildlife. Deer and red squirrels are frequent visitors with the pine martin who is more elusive.
What are some of the nearby locations guests could enjoy if staying at Allt Beag?
Loch Earn is popular for boating and fishing in the summer months. The route 7 cycle route runs very close to the property and is enjoyed by many as are the walks in the area. Allt Beag has a bike rack outside if you bring your own bikes. A local attraction on the walk between Lochearnhead and Strathyre is the beaver dam not far from Allt Beag. Comrie, Killin and Callander is around a 10-20 minutes-drive offering history and culture of the local areas.
What does a typical day when staying at Allt Beag look like?
A relaxing breakfast while watching the red squirrel of deer if you are early. A walk-up Glen Ogle with fantastic views of Loch Earn reaching Killin for a light lunch at a choice of eating places. Hire of kayak from the outdoor centre and a trip on the river Dochart before a gentle stroll back to Allt Beag.
OR
Travel to the Crannog centre, Loch Tay for a light lunch. Go for a forest walk before returning to Allt Beag. Book for dinner at the Achray House, St Fillans.
Once lockdown restrictions have lifted, are there any businesses you would recommend to your guests? i.e. restaurants/cafes/local businesses etc.
Yes, I would recommend a wildlife walk with Aquila Ecology. A great experience with the guide pointing out things you may otherwise miss. Local eating at the Lochearnhead Hotel, or Clachan Hotel or The Four Seasons and Achray House at St Fillans
Is there anything else you would like to say to our readers?
If you enjoy relaxing or exploring both can be done in this area with many historic sites to visit and enjoy. The difficulty of walks can be increased by climbing a local munro. Bike hire or kayak hire is not to be missed to explore the pathways and trails.